Many know about transgender substance abuse, but few give it the attention it deserves. Risk factors and rates of addiction are much higher in this population than in the LGBTQ and straight populations and yet substance abuse treatment often fails trans people.
Read on to learn why the transgender population is vulnerable to substance abuse, where traditional treatment falls short, and how to improve treatment outcomes.
Why Is Transgender Substance Abuse Such A Problem?
Substance abuse occurs because of the minority stress trans people experience on a daily basis. Minority stress is a complex idea. However, it's enough to know society is dominated by homophobic and heteronormative values. Transgender people don't "fit" into this mold and thus experience stress due to being different.
The result is harassment, maltreatment, discrimination, and victimization. It may also impact access to medical care.
The reality is more complex and more devastating. For example, transgender people often experience poverty, violence and abuse, and higher incarceration rates. They're also subject to double standards in housing, employment, and healthcare.
It's no surprise then, that these experiences lead to stress, depression, and anxiety. These feelings drive some people to use alcohol and drugs to self-medicate and cope with their problems.
Just take a look at these statistics to get a better understanding:
A survey of 1,093 male-to-female and female-to-male transgender people found that 44.1% reported clinical depression. Over 33% experienced anxiety.
Up to 10% of transgender individuals reported being violently treated when they came out to their families. Eight percent said they were turned out of their home.
A survey of 6,456 transgender adults found that approximately 42% of respondents reported trying to commit suicide at least once.
These findings show a clear relationship between minority stress, mental health, and substance abuse in the transgender community.
But the issue doesn't stop there. Trans people more prone to mental health problems and substance abuse, but they also experience significant barriers when accessing medical treatment.
Barriers To Treatment
Many transgender people have at least one negative medical experience. For example, a Reuters report from March 2015 found that 42% of transgender people reported verbal or physical abuse at their doctor's office because of their gender identity.
These findings are surprising by themselves, but the situation is even worse when you look more closely. Most of the people who reported discrimination were "young, white, college-educated people with jobs and private health insurance."
This suggests that transgender people who don't fit into these categories—those who are older, not white, uneducated, unemployed, or without health insurance—could be subject to even greater levels of discrimination during treatment.
Indeed, fear of maltreatment and past negative experiences are common barriers to seeking mental health services. Many participants mentioned stigma as their main concern and were scared of "mistreatment at the hands of someone who could not understand them."
Stigma in Substance Abuse Treatment Centers
Transgender people face challenges even after checking into addiction treatment. That's because most treatment facilities lack the experience and infrastructure to accommodate their unique needs.
In some cases, transgender people are either excluded entirely from programs and services or grouped with LGB clients, instead of being placed into a dedicated category.
What's more, clients who are transitioning require regular hormone treatments, an intervention that some treatment centers may not have experience administering or monitoring.
These challenges mean poorer outcomes for trans people in substance abuse treatment. For example, a study of 34 transgender people found that those who were subject to stigma and transphobia "left treatment prematurely after isolation and conflicts."
Best Practices In Transgender Substance Abuse Treatment
Despite the high rates of substance use among transgender people, there's a lack of awareness of tested interventions for the transgender population.
The most basic thing transgender people require when seeking substance abuse treatment is culturally competent providers. Clients should never need to train providers about their mental or physical healthcare needs, a fact that's doubly true for transgender people.
To that end, we've compiled some recommendations for providing culturally competent substance abuse treatment to transgender clients.
Address Issues Behind Substance Abuse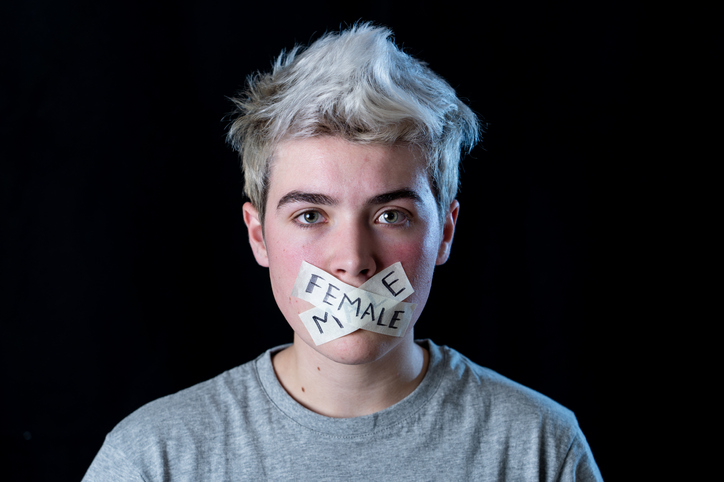 Substance abuse treatment for transgender individuals must address the unique issues that place this group at a greater risk for mental health challenges and substance abuse. Some subjects to address include: family rejection, lack of social support, stigma, abuse/harassment, and minority stress.
It's only in acknowledging these challenges that transgender people can form an understanding of why they abuse drugs or alcohol. That understanding is crucial in order for transgender people to learn coping methods and move forward.
Use Correct Language
Language is an important aspect of treatment. That means sexual slurs, offhand comments, or LGBTQ jokes have no place in substance abuse treatment centers. These words have a silencing effect and may keep transgender clients from returning to treatment. They may also be the basis for future mental health and substance abuse problems.
But culturally competent treatment isn't just about what not to say. It's also about what to say. Health care providers should introduce themselves using their name and their pronouns. They should also ask clients which pronouns they use.
For more help understanding gender pronouns, check out our article about why pronouns matter.
Provide Appropriate Bathrooms And Dormitories
Residential rehab centers with transgender clients need to honor their clients' self-identified gender when it comes to bathrooms and housing. Forcing transgender people to use facilities that align with their gender assigned at birth may perpetuate the stigma they face.
This could lead to increased stress levels and emotional struggles that contributed to their initial substance abuse. On the other hand, understanding and respecting clients' identities moves treatment forward and contributes to a more effective recovery.
Administer Hormones
Whether or not to stabilize transgender patients before starting or resuming hormone replacement therapy (HRT) is a question without a concrete answer. That's because, almost no research has been done on the subject.
Some recommendations say co-occurring mental illnesses must be stabilized before initiating hormones. Others say medical treatment of gender dysphoria is best done simultaneously with mental illness and substance abuse treatment.
Although there's no clear answer, it's always a good idea to ask transgender clients about their HRT and consult with them about taking hormones during treatment. For many clients, receiving HRT is a way of affirming their identity. As a result, it may help them move through the treatment process more efficiently and effectively.
La Fuente And Transgender Substance Abuse Treatment
LGBTQ-affirmative treatment is what La Fuente Hollywood Treatment Center is all about. We're one of the few treatment centers in the United States dedicated to serving the needs of this community.
We understand that drug and alcohol addiction treatment for transgender men and women begins by understanding of their journey leading up to their admission in a substance abuse treatment program.
Our treatment is non-judgmental and therapeutically sensitive. In addition, our staff is trained to help clients who have experienced family distress and societal pressures that can manifest as addiction.
We offer full-service care—from detoxification to residential, to outpatient, and sober living. Our clinical program has been carefully crafted over time and is informed by evidence-based treatment including:
Motivational interviewing
Dialectical behavioral therapy (DBT)
Cognitive behavioral therapy (CBT)
Therapeutic yoga
Relapse prevention therapy
We work tirelessly to stay on the cutting edge of LGBTQ-affirmative treatment in order to best help our clients achieve long-term sobriety. So if you, or someone you love, is part of the transgender community and is struggling with substance abuse, fill out the contact form below.
A member of our staff will respond in less than 24 hours and can answer any questions or concerns you may have.