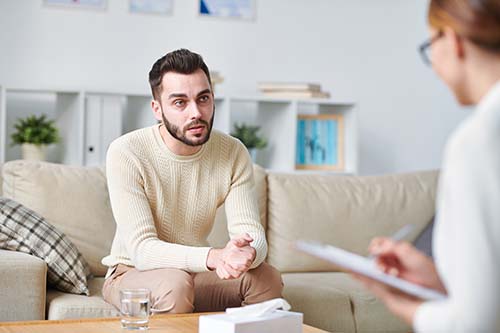 In everything we do at La Fuente Hollywood, we believe in a deep dedication to connection and community. We do this by offering highly specialized, cutting-edge treatment in an intimate, personalized setting.
We intend to be a thought leader in the space as we integrate our talent, experience, and passion with those causes and institutions working hard to positively advance the trajectory of substance abuse treatment within the LGBTQ community.
If you or a loved one is seeking a program tailored to LGBTQ addiction treatment in Southern California, call La Fuente Hollywood Treatment Center today at 888.903.9898, or contact us online to meet our addiction treatment specialists and learn about our approach.
La Fuente Hollywood Treatment Center offers a full continuum of care – from medically supervised detoxification to residential treatment, outpatient care, sober living, and comprehensive aftercare. La Fuente's clinical program has been carefully crafted over time and is made up of a combination of evidence-based treatment modalities and more holistic, patient-centered approaches.
An individualized treatment plan that addresses the client's specific needs may include a range of therapies and treatments to help clients have the best advantage to long-term sobriety. Among these options, you will find:
Individual therapy
Group therapy
Family therapy
Motivational interviewing
Dialectical behavior therapy (DBT)
Cognitive-behavioral therapy (CBT)
Family systems
Mindfulness
Therapeutic yoga
Relapse prevention therapy
LGBTQ individuals have spent most of their lives trying to fit in and conform to sexual/gender ideas and constructs that do not match how they see themselves in the world. For many, this fosters feelings of alienation and isolation, as well as discrimination.
Methamphetamine, cocaine, party drugs (GHB, ecstasy, ketamine), alcohol, and prescription medications are prevalent in the LGBTQ community. High-risk behaviors associated with many of these drugs can cause even greater shame, increase health risks and perpetuate use.
La Fuente Hollywood Treatment Center has been at the forefront working with LGBTQ individuals struggling with addiction as well as with their families and loved ones since 2005.
What Makes Us a Leader in LGBTQ Addiction Treatment?
Specialized and Experienced
In addition to being experts in the issues and treatment of LGBTQ individuals, the team at La Fuente Hollywood Treatment Center is also the only gay drug rehab program in the Greater Los Angeles area that has spent over a decade developing and providing the immediate community integration and introduction necessary for long-term recovery.
Our home-like, intimate setting and smaller groups facilitated by experts working with LGBTQ individuals provide a rich environment to do the deep work necessary to form bonds, trust, and a sense of family.
Simply put, community and connection are at the heart of everything we do. These values inform our treatment and recovery approach at every step of the way. We deliver evidence-based, individualized treatment approaches in a supportive and intimate environment and believe integrating social issues through community engagement plays an integral part in our client's success as we work to improve the communities where we live and work.
Paying for Addiction Treatment
At La Fuente, we understand that financial concerns often hinder or delay individuals from seeking the help they need. We pride ourselves on providing the best continuum of care possible for our clients. This includes easing the financial burden of treatment by accepting insurance from a number of national health providers.
If you have questions about your insurance and whether we accept it, please call us today at 888.903.9898
Reach Out to La Fuente Hollywood Treatment Center Today
If you or a loved one is a member of the LGBTQ community struggling with substance abuse or addiction. La Fuente stands ready to provide the complete continuum of care needed to treat your mental health and substance abuse challenges while providing a safe, inclusive, and intimate environment specifically designed for LGBTQ clients. Call us today at 888.903.9898 or reach out online.